Election Toy of the Year 2020- the nominees
Election Toy of the year 2020- the nominees
This year there will again be a Toy of the Year election. And just like last year, we get to vote again. Voting opens on September 9.
Which toys are nominated you can read here.
Toy of the year 2020 election
The Toy of the Year Competition has been a household word for more than 45 years. A professional jury consisting of an educationalist, journalist, an influencer and experts from the toy industry spent two days playing with a wide variety of toys and games. After two wonderful days of feeling like a child again, they nominated the best toys and fun games from the entries in seven age categories.
Organized every year
Every year the election is organized to bring toys in a positive way to the attention and to help parents to select toys for their child (ren) and themselves but also for family and friends. Harry Broers, chairman of the professional jury: "The nominated articles give a varied and good picture of the current offer of the toy industry".
Vote
From September 9 to November 1, 2020, everyone can cast a vote and thus also have a chance to win a nominated item. The winners of the Toy of the Year election will be announced on November 4.
The nominees:
Take a look at the 2020 nominees here and start thinking about what you will vote for.
0-3 years
A baby explores the world around him. Especially bright colors attract his attention. It has to be big pieces because he can't get something right yet.
Sounds are also always in demand.
The toddler can do more. Pulling toys behind you is then fun. A toddler is full of questions.
Toys can provide answers and stimulate possibilities.
Toddlers build with blocks, make music and like to play with other children. Playing a game is becoming more and more common now.
The nominees for Toy of the Year are:
Playmobil 1.2.3 My take-home nursery
Fun and a learning experience kids get with this versatile Playmobil set.With this set, children can reenact the preschool or nursery, and everything can easily go with them in a suitcase. Ideal
SmartMax My First Sounds & Senses
Shake rattle and build, each rod has its own structure to encourage a sense of touch. Shake and make music!
4-5 years
Playing house. But imitating the doctor or dentist is also a favorite activity. Most preschoolers have a big imagination, and toys for this age cater to it.
Playing simple games is begun.
The nominees are:
I Learn Symmetry
By placing the shapes correctly and discovering the magical effect of the mirror, children learn to recognize figures and colors and their creativity is stimulated.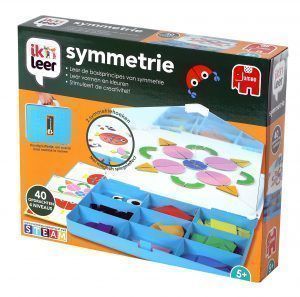 PAW Patrol Ultimate Police Cruiser
Become the hero of the day with the PAW Patrol Ultimate Police Cruiser. Press the button to bring out the helicopter and fly away.
Louis vine
Take turns rolling the dice and see which piece of fruit or jungle friend to hang on to Louis, the orangutan. Who wins this exciting game?
Jack and the Beanstalk
Rebuild the image of the Beanstalk and help Jaak climb to the castle in the clouds. It is a game with 60 tasks, where you have to think carefully before placing a puzzle piece on the ladder.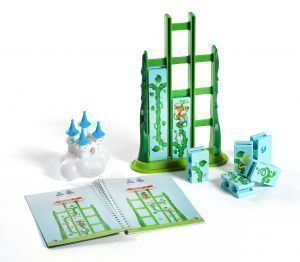 6&7 years
Children of this age group are competitive, they enjoy outdoing each other. All kinds of games respond to this need. Whether that play is outdoors with friends and girlfriends, or indoors with siblings and parents doesn't matter.
The nominees are:
FurReal – Mommy Josie the Kangaroo
The FurReal Mama Josie the kangaroo interactive toy animal is cute and has adorable babies! One baby is a boy and another is a girl, and the third is … a surprise! Unwrap all three to know if it's a boy or a girl.
She responds to touch with more than 70 combinations of sounds and movements.
LEGO Adventures with Mario starter set
Children can play with their favorite character from the Nintendo game in the real world. Set includes a LEGO Mario™ figure that provides instant reactions via the LCD screens and speaker. Players can earn virtual coins by taking LEGO Mario from the Starting Tube to the Flagstaff via spinning platforms and cloud platforms, the ?-block and super battles with the Goomba and Bowser Jr. toy figures.
Move the bricks to create new levels and try to complete them. Read more about the game here: The Lego group and Nintendo collaboration
Bank Attack
Work together in this game to develop and strengthen group spirit. Your mission is to accomplish the bank heist of the century in 5 minutes. With your team: Hacker, Money man, Lookout, Explosives Expert. And your strategy: listen carefully to the instructions and get stinking rich.
But drop a stitch, and the alarm will go off!
Froggit
Guide your frogs safely across the pond and prevent other players from doing the same. The first frog family to reach the other side of the pond wins the game. But beware, the fish can chase your frogs back to their starting banks!
Flexible thinking, good planning and thwarting your opponents make this an exciting family game.
8&9 years old
Playing games and testing knowledge. All kinds of games, for fun or informative, are appropriate. Or construction building.
Explore science because they are very curious, and they want to try out many things: how does it work and how is it put together? You could say that science plays a role at this age. Educational games can playfully help improve mastery of school lessons.
This age group's nominees:
Color Addict
A colorful and engaging game, perfect for family game nights. This is a blue card. And this one? Red or green?
Get rid of all your cards as quickly as possible by playing the right color or the right word or both or vice versa. Some cards have one color written on them but with ink in a different color. So bv the word red written in green. . The game is very addictive!
DOTS BFF bracelet set
Make your own cool friendship bracelets and give them to your best friends! Open the BFF bracelet set, lay the bracelets flat and click the colorful tiles on them. Add the heart tiles in different colors and the printed tiles to completely match the personality of you and your friends. #dotyourworld
Smooth card game The motto of L.A.M.A. is: Lay off all the Minuses. Each turn you try to discard cards, otherwise you get minus points for them. If you can't discard anything, you decide to pass or draw a (hopefully good) card. You get minus points in the form of chits.
If you manage to get rid of all your cards, you get to return a token. At the end, the player with the fewest minus points wins! L.A.M.A. Is a funny and accessible card game with very simple game rules!
10&11 years
Playing games, making even more complicated construction structures and engineering is fun and interesting for this age. More difficult games children of this age also like to play.
The nominees are:
Overbooked
Welcome to our country's busiest airport. You work at the service desk and make sure every passenger gets a seat. This is quite a puzzle, because some passengers want to sit by the window and others prefer to travel in a group. Moreover, the plane is overbooked: there are more passengers than seats…
Are you the one who satisfies the most passengers?
The Quest for El Dorado
As the expedition leader, you will search for the mysterious golden city and win the game by being the first to reach El Dorado. You start with a generic deck of cards that you use to move around the game board. Your deck consists of a team of scouts, travelers and sailors who help you cross different terrains.
The board game is suitable for beginning players and offers more than enough possibilities to also challenge advanced players to move through the jungle as fast as possible with the right tactics during "The Search for El Dorado".
Cube Duel
12 to 17 years old
Playing doesn't stop once you leave elementary school. No doubt this is because the offer is more and more focussed on players over 12.
The nominees for this category:
Herrlof
Herrlof is a two-person battle card game set in Viking times. Players aim to win the 'herrlof': a token of honor and victory. It a tactical game, because you want to win exactly the right number of turns and thus earn bonus points.
Whoever gets 50 points first wins the game.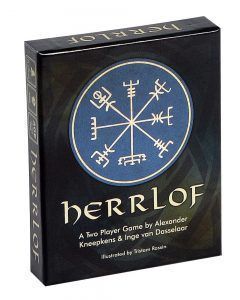 Stay Cool
In Stay Cool, your fellow players bombard you with questions and the player who manages to answer the most questions wins. They are not at all difficult questions requiring in-depth knowledge. So there are everyday questions, personal questions, but also agility or speed tasks among them. The winner is the one who answered the most questions correctly in 3 rounds and thus scored the most points.
This party game can be played with 3 to 7 players. So perfect for a fun evening of multitasking with friends or family.
18 plus
More and more adults are discovering that playing is fun especially in recent months! In addition to construction kits, construction toys and puzzles of all kinds, there are interesting and fun games. Games around a theme that will keep you busy for a while or games that test knowledge.
The nominees:
The Crew
The Crew is a cooperative card game in which you try to cross the universe in 50 different missions. You can only succeed if everyone pays attention and works together. One wrong card can mean end of mission. The Crew will feel familiar to a card player. The game rules are basically simple.
But when you have to work precisely together with these rules and limited communication, an innovative, exciting and extremely fun card game emerges for beginners and seasoned card players alike. With variant for 2 players!
Black Stories Uni Edition
Studying can not only be deadly boring, it can also be deadly boring. On campus, during lectures, at a party in a dorm or at the student loan counter …in the life of a student, things sometimes go wrong. Professors mysteriously disappear and fellow students die under lurid circumstances.
If exam stress is driving you crazy, rather let your neck hairs stand up and solve the jet black riddles of the black stories Uni Edition!
Toy of the year
These are all the nominees, from September 9 we all get to vote again on which toy appeals to us the most. For all information about these toys, the nominees, as well as more information, visit the Toy of the Year site!