Drawing and Painting What Do You Need
Drawing and Painting, what do you need?
Learning to illustrate! In January I started a course in Illustration at the Loi. What do I use when drawing and painting and what did I have to buy for this hobby that got out of hand?
Start with Drawing
I ' Ve Always Liked Drawing, Only I Wasn ' t Very Good At It. I always had great ideas in my head, but the way I had it in my head, it never came on paper. Then last year I started my bullet journal and notited that I wanted to draw more and more.
I Joined Challenges and Started to Put More And More On Paper.
Illustration Course
I do not have the ambition to make a living out of drawing or painting. It is just a super cool hobby and I noticed that the more I did it, the more i wanted to liepin to paint and draw more beautifulgeful. So as soon as i got my typing diploma (which I had to finish first) I started a course in illustration at the loi.
I looked at Several Courses, But Because I Could also do a practice Lesson here, I Got a Good Idea of the Course and Chose This One.
And so I Began
I Received a Thick folder with theory and a box of drawing stuff. This Contained the Essentials for Drawing. Things Like Pencils, Brushes, Eraser and Ink.
Also the first chapter said it was wise to go through the first ten chapters to see What I Should Buy. It was QUITE A LOT AND I COULD FIND A LOT At Action or Hobby Store. Now that i ' m Doing the Course, I also notice that I use it all.
But what do I use for drawing and painting??
A Drawing Book and Sketchpad
For sketching and practicing I use a cheap sketchpad. But if I have to do assignments where I really sit down I do them in a drawing book. The Pages are Sturdy and also Paint Works Fine on Theme. Also easy to keep and see later IF I am Improving in Terms of Drawing.
Pencils and charcoal
Pencils Come in So Many Different Hardnesses. I prefer to draw with b pencils because they are soft and easy to erase. Among the Things I Bought Were Charcoal, A Kneading Eraser and A Squeegee (To Remove the Charcoal) It is Great Fun To Learn to Draw with Charcoal, It is so Different from Pencil and I Have Discovered That You Just Have To Try And Do It.
I had some trouble with that in the beginning of the course. In My Folder Beautiful Drawings and In The Beginning I Drew A Lot, But It Did Not Turn Out The Way I Had in Mind That I Keen To Project Rembrand and here Someone Told Me, That She was Sometimes Busy for Days Drawing Or Painting A canvas.
I really thought 'How Then?' Then I Started Concentrating on Drawing, Took More Time for It And Noticed That Before Drawing Is Real You Can Just Spend A Long Time With It TOO. Put It Away, Look at It Again and Draw Again.
Different Paint Sets
Now I Paint More and More Often. Also tricky, but here again the rule, practice make's perfect. Never Knew There Were So Many Different Paints for Sale.
I Bought Acrylic, Watercolor and Gouache Paints. Gouache is a gouache, this paint is very grandpaque but mixes well with water.
I think of all the paints I paint with now, I find the gouache the most beautiful, but also the easyest to paint with. Usually I first draw what I want to have on paper and then go over it with paint. The Painting Below was an Assignment from the Course; Make a gouache collage.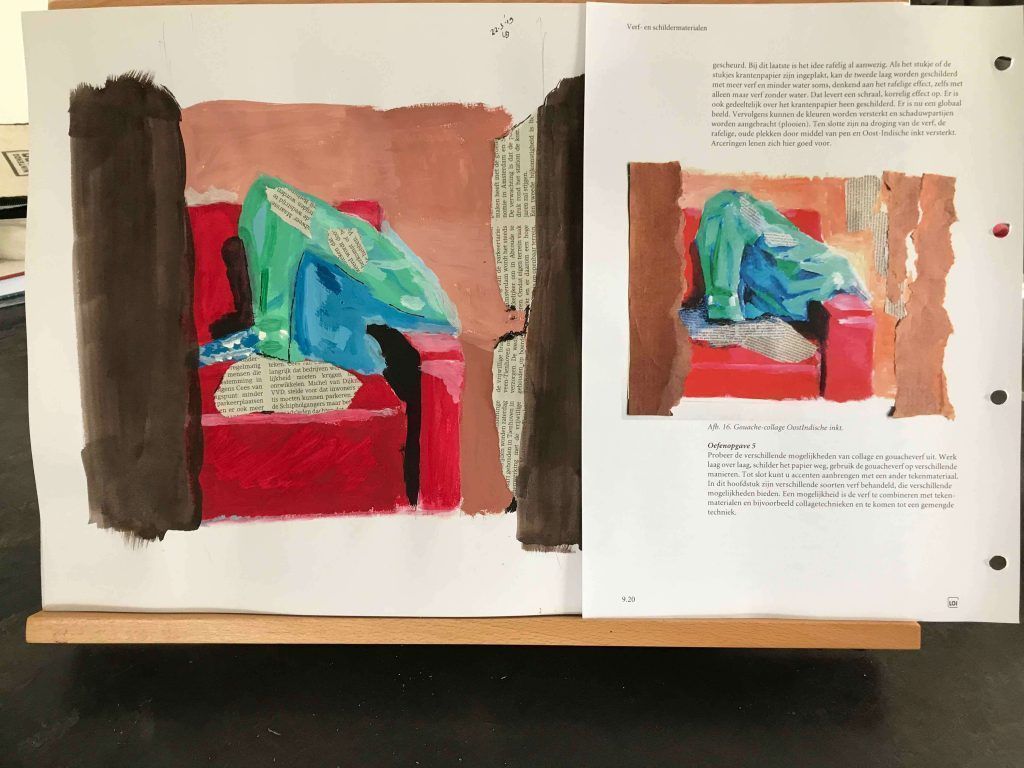 Light
What I Discovered Pretty Quickly While Drawing, was The Light I Missed. I Draw at the Dining Table And Here Both Daylight and A Lamp Are Not Really Present. Because I learned to draw with shadows and had to consciously well a lamp on it, I needed a new lamp. I Found the iDeal Table Lamp at Direct lamps.NL.
I chose this desk lamp Precisely because it can be adjusted in three places and I can place it as I like.
Not only does the lamp have a super cool look, due to the wooden frame, the tiltable shade allows me to control the incidence of light myself. The Desk Lamp is about 65 centimeters High. The White Shade is 18 inches in diameter.
This lamp is Great for Drawing, but also for my kids when they do their homework.
This is what I use a lot for drawing at the moment. I am now at Chapter ten of the Course and Need to Submit Assignments. After this I Will Continue Again and Am Curious If I Will Work With New Items Or With The Products I Already Have In Store.
There will probably be another article after this one with products I use a lot.